Certified Unified Communication Specialist
AceTeam Networks is certified by Poly (formerly Plantronics and Polycom) to supply and design professional conferencing solutions – from the small meeting room to a large auditorium. Be it audio or video communication, we understand each individual, business and call center needs are unique. Get in touch with AceTeam Networks for consultation for the ideal solution for each use cases.
Get the Best Quality from Poly in Malaysia
Poly has demonstrated 60 years of excellence in communication technology and innovation. With more than 1,500 patents in force worldwide, Poly continues to offer exceptionally clear voice and video quality for business communication.
Both Plantronics and Polycom were already the leading brands for headsets and conferencing solutions trusted by over 1 million businesses worldwide. You can rely on Poly to sound your best and be more productive anywhere you work.
The real-life audio quality from mic and speaker
High quality of video conference achievable
Superior product quality up to 2 years warranty
Easy to use and portable
Freedom of movement with a good range of Bluetooth
Excellent 6 layers of a noise-cancellation mic with Wind smart technology
A lightweight headset that provides the comfort of wearing all day long
Now you can work from anywhere you like – and still be able to communicate clearly and collaborate with your colleagues, customers or other people across the world.
Experience office ambiance even from your home. No disruptions could get on your way and stay efficient in your day to day work.
Confidently attend your work calls even from your car, malls, construction sites, or anywhere at all. Your conversation will deliver absolutely clear and natural sound with the best noise-canceling microphones.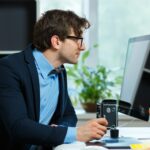 Desk phones that range from corded to cordless, with excellent stereo sound and bring focus to the conversation with clear audio.
Clear audio and visibility – Poly has smart cameras with automatic framing to ensure everyone is seen even from the edge of the room. Suitable for any virtual meeting.
With "business unusual" now, some call centers have moved to "homes". Poly provides complete tools needed to ensure your customer services are still running "as usual".
Other Brands We Are Authorised to Sell
We are partnered with some of the brands that are rocking the IT industry today namely, Aruba Networks, Zoom, Poly, Palo Alto Networks, and more to provide the best of IT solutions and offerings that meet the customers' needs.
The industry leader in wired, wireless and security networking solutions that works for any business.
A leading modern cloud platform for enterprise video and audio conferencing, chat, and webinars
A leader in Gartner Magic Quadrant for Network Firewalls for the EIGHT times in a row.
Who is Polycom and why is it a leading video conferencing brand?
Polycom started off strong in 1998 as a company that specialized in video communication before it was acquired by Plantronics in 2018. Relaunched as Poly, it heightened its strengths in producing top-of-the-line voice and video conferencing solutions that helps consumers like you get HD quality video with low bandwidth requirements. It stands out from other UC brands in the market by being known to its users as a brand they can trust for audio conferencing devices. One such fine example would be SoundStation. It continues to dominate with collaborative solutions irrespective of device type, protocol, network bandwidth with minimal IT support.
What products are offered by Poly?
Poly offers a wide range of products that comes under the ambit of Unified Communications. Instead of working on different communication channels, Poly synergises an array of different tools under a common platform for them to work in concert with each other with a common user interface. Although previously known primarily for its wildly popular SoundStation, Poly actually has you covered for voice conferencing, video conferencing, screen-sharing, annotating live content, and much, much more. These are all essentials, no longer privileges, in this modern digital world.
Should I/my company invest in Polycom products?
If you often engage with your team, partners, or others, whether locally or internationally online, consider investing in reliable conferencing hardware and software. There are limitations to what a conventional mobile device or laptop can do when it comes to accommodating video conferencing of large sizes. Polycom products come with a top-of-the-line mic that can pick up voices from everyone in the room and a camera that gives people on the other end a good view of those attending the meeting. And that's just for starters.
How much will I spend on Polycom video conferencing products?
How much you eventually spend on Polycom video conferencing hardware and software depends on your requirements. While a few hundred Ringgit may be sufficient to cover the expenses for new Polycom personal audio devices like speakerphone or headset, the price is different for when you're trying to create a huddle room for group video conferencing. It will cost anywhere from a few thousand Ringgits for small huddle rooms to more than ten thousand Ringgits for bigger conference rooms. 
How does Polycom work with Microsoft Teams (formerly Skype for Business) and Zoom?
Polycom has a comprehensive suite of services for Microsoft Teams and Zoom to quickly help users connect hardware to software. It cuts down setting-up time by optimizing connectivity, scheduling, performance, cloud, and removing jitter, noise, and drops. Meetings on Teams are made easier with G-Series Microsoft Teams Rooms Solutions, Poly Studio X30, Poly Studio X50 video bars for Microsoft Teams, and Poly RealConnect. For Zoom, you can use the Zoom Connector for Polycom which allows you to instantly join meetings with partners with native integration.
We work with organizations of all sizes, across diverse industries. Here are some of our clients.
Contact AceTeam Networks Now!